Family Law
Ključne besede:
Family Code, child's best interest, marriage, child support, parental care
Kratka vsebina
Family law covers a wide range of regulations which can be used by the country to interfere with individual's privacy and family (and other) relationships. Family law (Family Code and Non-Contentious Civil Procedure Act in particular) is a combination of legal regulations and principles regulating marriages, consensual unions, relationships between parents and children, adoptions, foster care and custody. It deals with varied legal problems that require extensive legal expertise as well as individual approach, empathy and humanistic knowledge from the attorneys working in the field of family law. Family law regulations are predominantly intrusive, whilst parental rights are by their nature obligatory. Property is of secondary importance in family relationships, however, the main institutions of family law are of public interest. All of this supports the view that family law should be considered an independent legal field. As a member of the Council of Europe and as an EU member, Slovenia has signed and is bound to respect numerous international documents protecting the rights of children, especially minors (Convention on the Rights of the Child in particular). Family law also governs the so-called institute of trust or the ability of a minor to manage his/her assets and to protect his/her rights against the guardians, etc.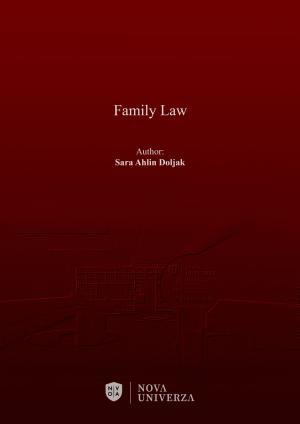 Prenosi
Avtorske pravice (c) 2023 Univerzitetna založba Nove univerze
Licenca
To delo je licencirano pod Creative Commons Priznanje avtorstva-Nekomercialno 4.0 mednarodno licenco.